Monday: No Mass
Tuesday – Friday: 7pm
Saturday: 9am
Saturday: 5pm
Sunday: 11am & 6pm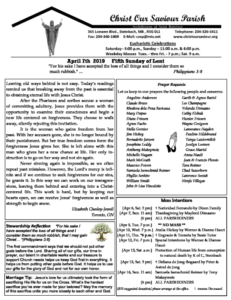 We Celebrate
God, infinitely perfect and blessed in himself, in a plan of sheer goodness freely created man to make him share in his own blessed life. For this reason, at every time and in every place, God draws close to man. He calls man to seek him, to know him, to love him with all his strength. He calls together all men, scattered and divided by sin, into the unity of his family, the Church. To accomplish this, when the fullness of time had come, God sent his Son as Redeemer and Saviour. In his Son and through him, he invites men to become, in the Holy Spirit, his adopted children and thus heirs of his blessed life.
Catholic Church. (1994). Catechism of the Catholic Church. Vatican City: Libreria Editrice Vaticana.
I see Jesus in every human being. I say to myself, this is hungry Jesus, I must feed him. This is sick Jesus. This one has leprosy or gangrene; I must wash him and tend to him. I serve because I love Jesus.
Never tire of firmly speaking out in defence of life from its conception and do not be deterred from the commitment to defend the dignity of every human person with courageous determination.
God cannot give us a happiness and peace apart from Himself, because it is not there. There is no such thing.